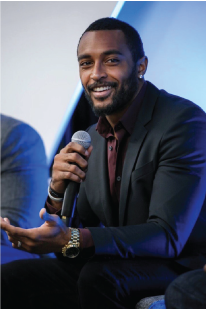 Meet Doug
Featured Speaker
As the President of Vault 89 Ventures, Doug Baldwin Jr. is a philanthropic activist, investor, and advisor.
Doug is the founder of the Family First Community Center Foundation in partnership with the City of Renton, Renton School District, and HealthPoint, to build a state-of-the-art community center in Renton's Cascade/Benson neighborhood. The Family First Community Center Foundation vision is to provide youth and families in the area with a community center that offers health, wellness, recreational and educational opportunities.
Recipient of the King County Martin Luther King Jr Medal of Distinguished Service Award, Doug is a Super Bowl Champion but most importantly, he is a devoted husband and father.
To learn more and help support this amazing community cause, visit familyfirstrenton.org or click on the donate button below.